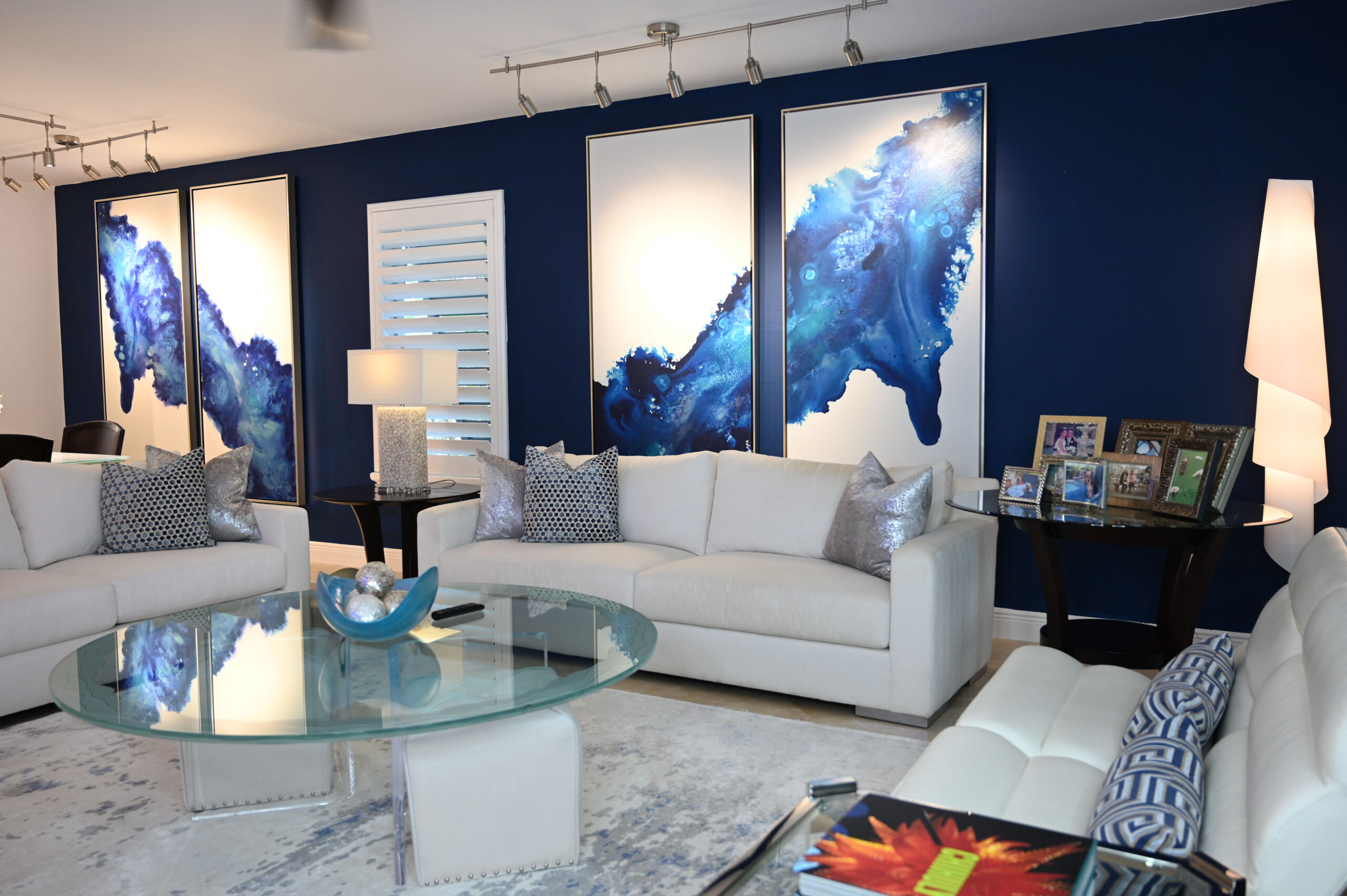 Our design studio can create the look you want
From traditional Interiors, Tropical Flavours, Italian Mediterranean, Transitional and European Contemporary, our designs are unique and individual to suite each client.
You couldn't ask for a more personalized service and professional installation. Debbie has great insight as to what will and will not work within your existing space. The quality and workmanship was impeccable. Delivered as promised - a rare service today in Naples. I would never go elsewhere for my drapes. —James
Debbie Kershaw, owner and designer of her own workroom, is the most responsive and talented designer / workroom in Naples. The interior design community reveres the commitment and talent that Debbies Drapery brings to their work and their clients.—Joan W.
Debbie and her entire team are Outstanding!! Her vision, attention to detail and design sense are impeccable. She is a creative thinker and it shows in her designs and problem solving skills. She also has the patience of a saint, as I had an infinite number of questions and she graciously answered every single one of them! in She was able to to deduce from our conversations exactly what we were looking for, even though we weren't exactly sure what that was. The finished product is much better than we were able to envision and we absolutely love the window treatments!! I highly recommend Debbie and her team for your design needs.—Melissa
This is one of the few reviews that we have extended our time to write. We are doing so because of the highly positive opinion that we have about Debbie, her husband and her team. In our experience working with numerous designers and a variety budgets, Debbie is one of the few very positive experiences that we've had.

After meeting with a number of local designers we decided to hire Debbie. Debbie provided excellent design opinions, color choices, lighting selections and window treatments. The transparency in her pricing, attentiveness and communication was second to none, not to mention that she and her husband George are very professional and pleasant people to be around.

We would not hesitate to engage Debbie again on another project and we would whole heartedly encourage you to do the same. —David F.
I am an interior designer and have clients from Florida to Montana. I've used Debbie for several years, not just for window treatments, bedding, and custom pillows , but also re-upholstery. Debbie and her team have always been immediately responsive to any little glitch I've had. I even hauled items from MT to FL for her to "fix" when I couldn't trust anyone else. She's always open-minded when I come to her with my ideas and is a great collaborator. —Wendy
Debbie has been working with me for years. I wouldn't consider using anyone else. She has wonderful decorating and design talent. Debbie turns a house into a home. Her window treatments elevate your home to the next level. Everyone that works with her is very nice and always does a great job. Thank you Debbie!! —Sandy
I have used Deb from Debbies Draperies for 2 home projects. I always trust her ideas and recommendations. She has never steered me wrong and everything has been absolutely beautiful!! She always gives you a detailed outline with sketches of the project and a detailed cost up front. She is trustworthy, honest and efficient! Would recommend her to anyone without hesitation. You won't be disappointed! —Laureen
We are LOVING the window treatments! Every time Jim comes home he says how much he loves them! Also, your decision to increase the accent border width on both edges of each panel was huge. It not only hides the seam between the two fabrics, which I know you were concerned about, but it allows us to see the accent border on both edges of each panel no matter where we are standing which creates a lot more color, visual interest and impact in the space. Because of that design detail, they look even more incredible!"  — Missy, Talis Park, Naples, FL
I'm absolutely over the moon with how the drapery panel turned out. That corner looks polished and put together, nothing fancy, just right. Also, the quality of the blinds exceeded my expectation. I couldn't be more thrilled with my outcome, and I have never had nicer installers….EVER! I'm so happy to have found Debbie and her team."  — Karen
Debbie and her team came up with the most practical and BEAUTIFUL solutions and then executed construction and installation to suit our time schedule...we could not be more pleased. Bravo Debbie and crew! Not only is your work exquisite but you are all a pleasure and delight to work with! You definitely go the extra mile."  — Irene G.
Debbie has worked with me on several projects. She is a very talented and creative designer. I would not hesitate to call on her for future projects."  —Judith R.
Debbie has fashioned draperies for me in two different homes, and I have been extremely pleased with the beautiful result.  She is a talented and creative designer, and her workmanship and attention to detail are at the highest level.  Debbie always exceeds my expectations!"   —Janice C.
Love, love, love Debbie's Drapery. She did all blinds and draperies in our home in Naples, FL. Absolutely adore her and she has numerous ideas. Her installers are great guys. So courteous and do a great job of installing. I have one more room to do which is our study and absolutely it will be with Debbie's Draperies."  —Denise I.
We would like to express our sincere & most grateful thanks to you and your team for all the expert advise and guidance that was on hand throughout the renovation of our Naples home. It's such a genuine pleasure to do business with an organization that truly exceeds in every respect. Your excellent range of product and helpful enthusiastic staff were  truly a joy to work with. Thank you so much for making what was a daunting task into a pleasurable experience." —Samantha & Ed K.
They are efficient, and timely (very rare in Naples, Florida). Awesome quality—clever design—solves existing problems creatively, could not be happier."